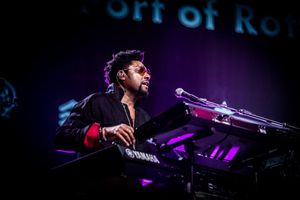 Morris Hayes (Musical Director and Keyboards)
Tours with Prince: Welcome 2 America 2010/2012 (US, Europe, Canada, Australia) 20Ten Tour (2010), The Earth Tour/21 Nights in London (2007), "Per4ming Live 3121 (residency in Las Vegas, 2006/2007), Hit N Run Tour (2000), New Power Soul (1998), Jam of the Year Tour (1997/98), Love 4 One Another Charities Tour (1997), The Gold Experience/The Ultimate Live Experience (1995/96), The Interactive Tour (1994). Act II (1993), Act I (1993), Diamonds & Pearls (1992) 
Album with Prince: Come, The Gold Experience, Chaos And Disorder, Emancipation, Crystal Ball, New Power Soul, Rave Un2 The Joy Fantastic, The Vault….Old Friends For Sale, The Rainbow Children, The Chocolate Invasion, The Slaughterhouse, Indigo Nights/ Live Sessions, Lotus flower, The War, Elixer (Bria) , Exodus (The NPG), and Gold Nigga (The NPG) 
While on tour with Prince in 1986, several members of the Revolution ended up going to a club in Memphis where a band was playing that Morris ultimately joined. Bass player Mark Brown invited them up to Minneapolis to make a demo tape and by the time they headed north, Morris had joined the band. After making the demo, Mark asked Morris to stay and play keyboards for a band he was producing (Mazarati). Although Morris agreed, the band ultimately did not stay together. However, Morris decided to stick around Minneapolis and started doing some engineering work with Mark Brown. During this time he wrote, co-produced and engineered tracks with the artist, Shanice Wilson. 
Morris got his big break in 1991 when Jerome Benton asked him to play keyboards with the Time. He was hired to replace Jimmy Jam. They were big shoes to fill, but Morris performed incredibly. That year, he toured Asia with the Time and at the end of the tour, Morris and a good friend formed a band called "G Sharp and the Edge". They were the house band for Prince's new nightclub, "Glam Slam." Prince recognized their immense talent and hired the entire band to play with Carmen Electra on his "Diamonds & Pearls" tour in 1992. 
After the tour, Prince asked Morris to officially join the NPG as another keyboard play alongside Tommy Barbarella. During the time that Morris was in the NPG, Prince dubbed him "Mr. Hayes" and that is how he is known to many. Morris left the NPG for a few years to tour with Maceo Park – the renowned saxophonist who achieved prominence with James Brown – and who embarked on a solo career in the 90's. He returned to the NPG in 2005, performing with Prince during his memorable Super Bowl halftime performance in Miami in 2007 (Read Morris's story of that eventful day here: http://www.billboard.com/articles/news/7677863/prince-2007-super-bowl-set-remembered. Morris remained in the NPG until late 2012.